Starting off the week with a good start, can make the difference between getting more clients or not!
Starting Off Your Week – The Right Way!
Working as a freelancer, entrepreneur and small business owner – it can be difficult to get motivated to get going when the Monday Morning alarm goes off.
Starting off the week with a good start, can make the difference between getting more clients or not!
Plus, having accountability and setting goals for your business and personal growth can be the decider whether you win or lose in the game of entrepreneurship!
Meet Monday Morning Mastermind!
What we're about:
You want to get an online business or marketing strategy really going but can use some help.
You're looking for a place that you can meet with other like-minded entrepreneur's to bounce ideas off of, get tips, and share what you've done.
This session is timed, and each business will have a set time to discuss their business, and get support from the other business owners in the session.
As there are a range of businesses that attend, you will get a wide range of support and advice from the other businesses, no matter what stage you are at on your journey.
What is the format of the workshop?
The session is online, and held via Zoom (details will be sent after registering).
The session will last for 2 hours. The group will be for a maximum of 10 people, for you to learn together and work on topics and tasks together. The session will be split into 2 parts.
Part 1:
Each person attending has a timed slot where they are able to discuss their wins, challenges, get support from the other members, and set goals for their next session. Learn and grow together!
Part 2:
There will be a topic for the session, where you can learn about the most up-to-date goings on in the online marketing and social media world.
Where is the workshop held?
It is an online session held on Zoom.
It's best download the Zoom app on your phone of computer for the session. However, you can access from a link in your browser that will be sent after registering. The password to join the session will be sent 15mins before the session start time (please check your email for this).
What do you need to bring along?
A notepad and pen is an essential. Your business elevator pitch, any business challenges and wins.
An open mind to learn, communicate and grow is a must!
Note: Ticket holders only. As the tickets are limited and usually full – If you are unable to attend the event, please release your ticket for other attendees to come. Thanks. Your session can be rescheduled if required 😀
What happens after the session?
You set your goals and actions for the week
You are sent an email to join a 'members only' Facebook group. Where you meet the other people that attend a MMM session
You use the group and the other members for accountability, networking and support.
What our previous attendees have said: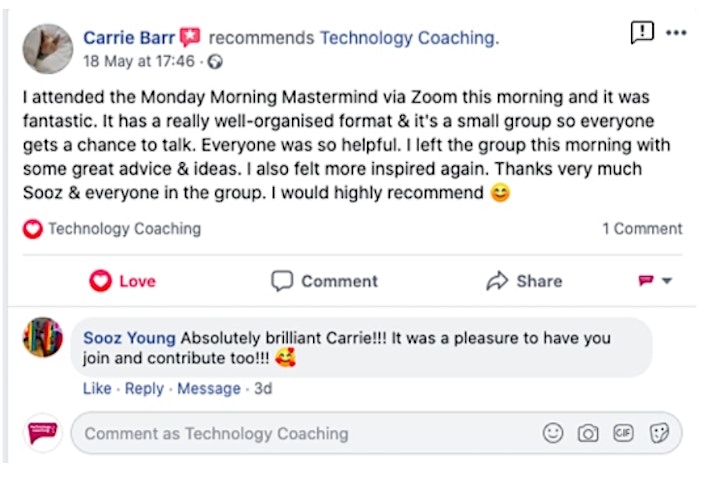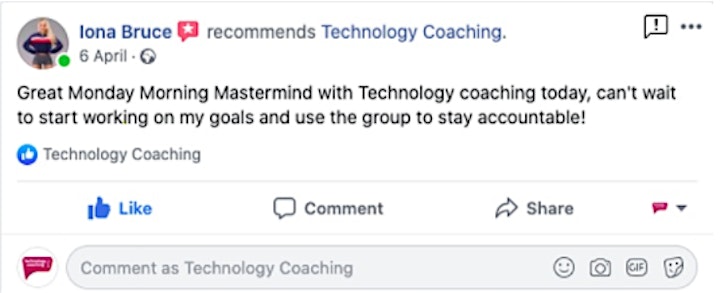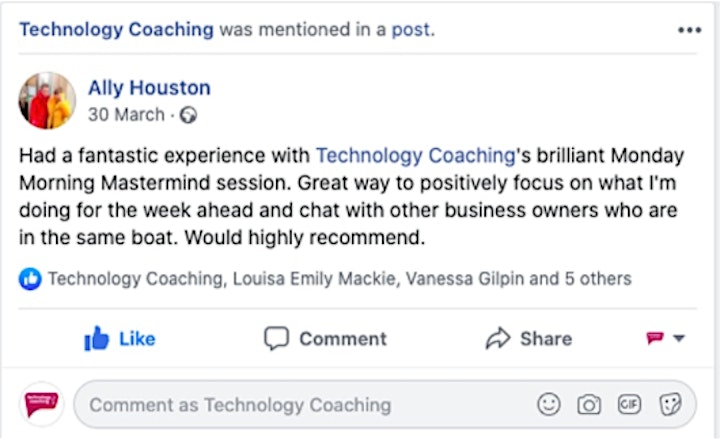 Who is your host?
Sooz Young, Director of Technology Coaching – Technology Trainer & Marketing Consultant
The session will be run by social media expert Sooz Young. Sooz has been working in the digital realm for over 10 years. Working as a trainer at Apple, she worked with small business owners, helping them develop their skills and implement processes and better ways of working. Sooz trained in Online Business Mastery in 2016 and now delivers training and supports clients all over Europe with their Online Business. Sooz is the director of Technology Coaching, that designs, develops and delivers digital skills training to small businesses and educational institutions across Scotland. In 2018/2019 Technology Coaching partnered with the Google Digital Garage to delivered workshops in Edinburgh and in 2019 partnered with Facebook to deliver the Facebook Digital Skills Training 3000 people across Scotland.
Contact: email training@technologycoachingonline.com or call 07531037626 for more information.